Act to guarantee the rights of EU nationals now
---
The Covid-19 pandemic is dominating government policy, public health and public consciousness – and rightly so. We must remember that this crisis puts the lives and rights of migrants into even more uncertainty and danger. Unless we act to prevent it, we could be facing an additional catastrophe in terms of the rights of millions of people living in the UK.
In July 2021, EU citizens without Settled Status will lose their rights to remain in the UK. Many will have just played a vital role in keeping the country running and staffing the NHS. Others will have cared for the elderly, or delivered our groceries and take-aways. We know migrant workers are more likely to work in severely impacted sectors, such as hospitality. The loss of jobs has forced many to temporarily leave the country, putting their future ability to return at risk.
Because of the Covid crisis and potential delays in the Brexit process, people who require face-to-face support and advice with their Settled Status application will not have been able to access it. The most vulnerable communities will not have been assisted or even reached. Thousands will have lost their right to apply due to Covid-related absences.
There is a very simple solution to this situation. We urge the UK Government to give all EU citizens currently residing in the UK a Right to Stay, guaranteed in primary legislation. This can be done quickly and easily, and need not be subject to further EU trade negotiations.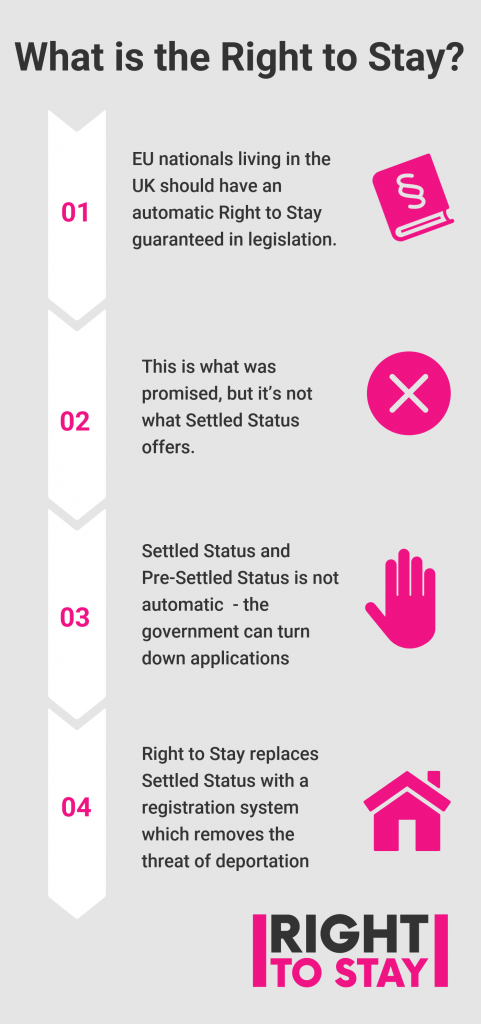 The support available for EU nationals at risk to complete this process was limited to start with, and has now been severely impacted by the Covid-19 crisis. Granting EU nationals their rights via primary legislation at this point in time is the best course of action when dealing with a fast evolving situation that will definitely not be over by mid-summer. It is also the right thing to do.
As public services fray and collapse, people are put in lockdown and a humanitarian crisis unfolds, the whole of the Hostile Environment – including immigration enforcement and 'no recourse to public funds' measures – must be suspended.
To stop the uncertainty and give EU nationals the security they need and deserve, we're calling for the Government to adopt the Right to Stay.